GENERAL SPONSOR OF COMPETITIONS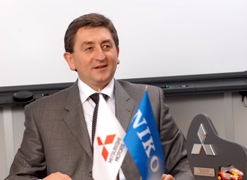 Dear friends!
On behalf of NIKO Group of Companies let me congratulate all of us and our nation with this historical event – first World Championship of Bodyguards – 2010.
First of all, we would like to express our great appreciation to State Guarding Service (SGS) and International Bodyguard Federation (IBF) for the honor to be the partner of this prestigious tournament. The 1st World Championship has become possible due to the incredible efforts of Organization Committee members, who have been arranging international tournaments for more than 10 years.
Trade House NIKO, official Mitsubishi Motors importer to Ukraine, Moldova and Belarus, has been participating in those tournaments as the official sponsor and partner since 2007 but support of the world championship is the most remarkable event for our company.
We truly hope that together with SGS and IBF we'll get properly prepared for the championship in order to have it performed on a high international level.
Heading for victory together!
Best regards,
CEO, NIKO Corporation
A.V.Sheliug